To see is to believe - handling and transporting tubular has never been easier
Time is money, we know, and there are always risks in changing up your old ways. But you can switch to TubeLock® tomorrow, and you will save time right away – even on first use. That is how easy-to-use the TubeLock® TTRS system is.
Try it for yourself to see how simple it really is.
Pipe handling with TubeLock® system
Watch animation that explains how to use TubeLock system offshore. Animation includes entire process – from backloading to transporting and offloading.
The future of pipe handling
Detailed video of how to assemble TubeLock® system
Video shows Tubular Transport Running System TTRS or shortly TubeLock. It is a safe system used not just for transport but for handling your pipes right up until they go into the well.
Check how you can improve your processes with TubeLock.
Detailed video of how to assemble TubeLock® system
Video shows a detailed description of how to assemble TubeLock system. It includes everything from setting up and assembling frames to packing pipes and quality checking
Case: Load out at Esbjerg Harbour showing pipeyard-to-boat
Video shows a real-life loadout at the Esbjerg Harbour. See the simple handling on pipeyard with forklift and watch the safe and undramatic loading of the boat, with pipes neatly stacked. 
Time-lapse of pipes being packed for transport
Watch the simple process of readying pipes for transport on pipe yard. All it takes is a few people, a forklift and very few tools. See for yourself, how easy it is.
Global Gravity in numbers
...based on customer feedback. Book an online demonstration with us, and we'll show you, how we do it.
Save up to
83%
offshore crane-lifts
Save up to
50%
time on first use
Reduce CO2 up to
60%
per well
…compared to slings/crates/frames.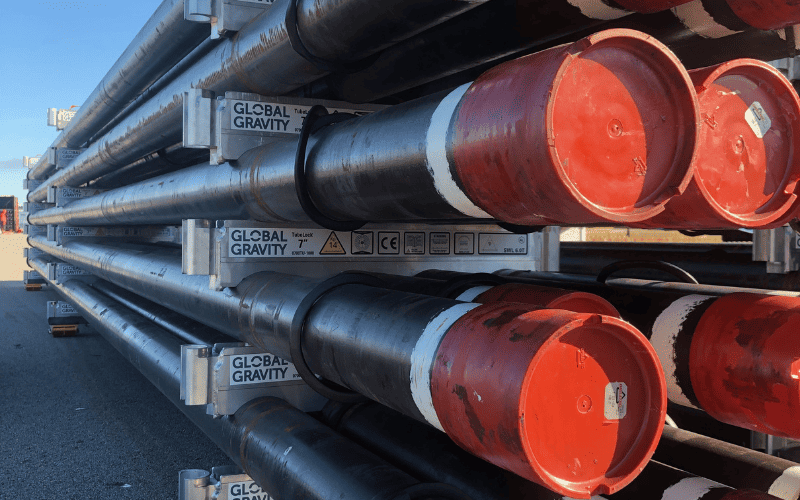 Some time ago, Global Gravity received a request for a not-quite-standard task. A large operator in Norway crossed upon a challenge they couldn't solve alone. ...