Easy-to-use is an understatement - see for yourself
Time is money, we know, and there are always risks in changing up your old ways. But you can switch to TubeLock® tomorrow and you will save time right away – even in first use. That is how easy-to-use the TubeLock® TTRS system is.
Detail-animated full-cycle TubeLock® on rig
Watch how the TubeLock® TTRS system makes a difference in transport of pipes from boat to pipe deck and into the ground. 
Case: Load out at Esbjerg Harbour showing pipeyard-to-boat
Video shows a real-life loadout at the Esbjerg Harbour. See the simple handling on pipeyard with forklift and watch the safe and undramatic loading of the boat, with pipes neatly stacked. 
Time-lapse of pipes being packed for transport
Watch the simple process of readying pipes for transport on pipe yard. All it takes is a few people, a forklift and very few tools. See for yourself, how easy it is.
Our numbers are ambitious - but correct
...based on customer feedback. Book an online demonstration with us and we'll show you, how we do it.
Save up to
83%
offshore crane-lifts
Save up to
50%
time on first use
Save up to
50%
deck space on rig
…compared to slings/crates/frames.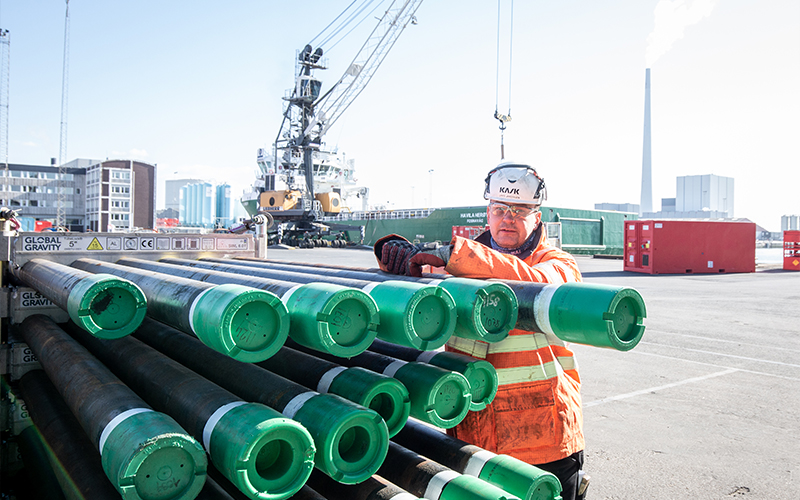 TubeLock® TTRS makes pipe handling easier and safer As a former offshore crane operator, Field Supervisor Lars Jakobsen has experienced the numerous benefits of TubeLock® …
Want to see what you could be working with? Take a look at the datesheets.